Are you confused about the biblical responsibilities of a man? Let us now find out what these responsibilities are and how we can embrace them in our lives.
While the specifics of roles and responsibilities for a man can vary based on cultural and historical contexts and individual family dynamics, it is pertinent that we explore some biblical responsibilities of a man, both as a husband and a father. Christianity places a strong emphasis on family and the role of men within the home.
The Bible provides guidance and instructions on various aspects of life, including the roles and responsibilities of individuals within society. For men, the Bible outlines specific expectations and responsibilities, particularly in the context of marriage and family, offering them a clear path to follow.
What Does the Bible Say About the Role of the Man?
The Bible portrays the role of a man as one of leadership, responsibility, and selflessness. It guides men on how they should conduct themselves in various areas of life, including their relationships, families, and society as a whole. It is crucial to understand and adopt the biblical responsibilities of a man. By doing so, men can become positive influencers, strong leaders, and pillars of support within their communities.
Biblical Responsibilities of a Man in the Family
As a Christian man, it is important to understand the significance of your role within your household. Your responsibilities extend beyond the superficial aspects of providing for your family; they encompass guidance, love, and spiritual support.
We will now delve into 12 specific biblical responsibilities of a man he is called upon to fulfill according to the teachings of the Bible, illuminating the importance of each duty. We will also include relevant Bible verses regarding the biblical responsibilities of a man to offer a comprehensive understanding of these responsibilities.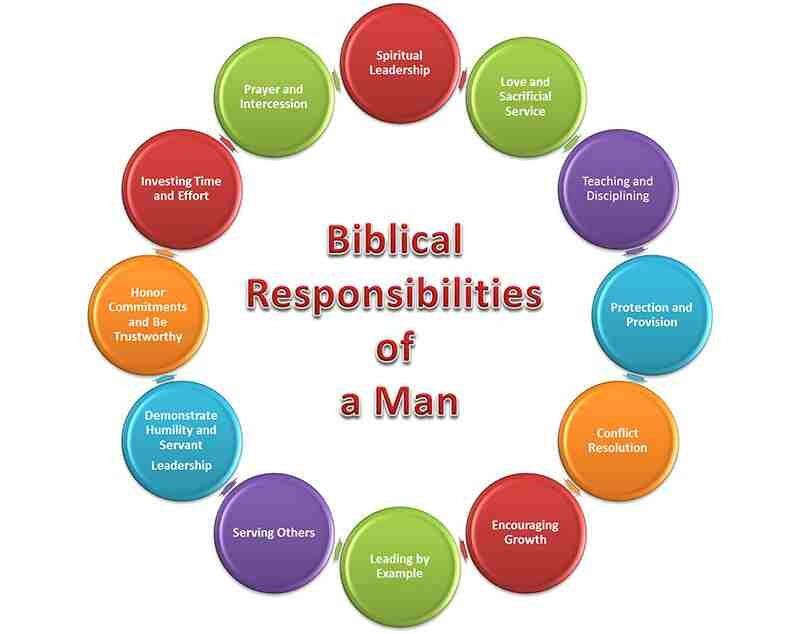 Spiritual Leadership (biblical responsibilities of a man): A Christian man is called to be the spiritual leader of his household. This involves leading by example in matters of faith, prayer, and devotion. He should actively encourage family members to grow in their relationship with God and ensure that spiritual values are integrated into daily life. In Proverbs 22:6, it states, "Start children off on the way they should go, and even when they are old, they will not turn from it." Men should actively participate in church activities, promote a vibrant prayer life, encourage regular study of the Bible, and foster an environment that nurtures the spiritual well-being of those around them.
As the spiritual leader of their home, it is vital that they cultivate a strong connection with God and inspire their family to follow suit. A dedicated devotional time that involves group scripture study and discussions of faith can foster unity and spiritual growth within the family.
Love and Sacrificial Service (biblical responsibilities of a man): Christian men are called to love their wives and children sacrificially, just as Christ loved the church. This includes showing genuine care, compassion, and understanding. Sacrificial service involves putting the needs of family members before one's own desires and demonstrating selflessness and humility.
Men are called upon to love and cherish their wives, as stated in Ephesians 5:25: "Husbands, love your wives, just as Christ loved the church and gave himself up for her." They should emulate Christ's unconditional faithfulness and love for the church by treating their spouse with compassion, honor, and dignity. This fosters a harmonious and loving atmosphere within the home. Demonstrating affection and appreciation for your spouse on a regular basis strengthens your marital bond. This responsibility goes beyond mere affection, encompassing care and respect for one's spouse. Men should strive to create a nurturing and loving environment that fosters mutual growth and happiness within their marriages.
Teaching and Disciplining (biblical responsibilities of a man): Men are responsible for teaching their families about God's Word and its principles. This involves sharing biblical truths, values, and wisdom. Fathers play a crucial role in disciplining their children, helping them understand God's plan for their lives, and guiding them in making godly choices.
In Deuteronomy 6:6-7, it is mentioned, "These commandments that I give you today are to be on your hearts. Impress them on your children. Talk about them when you sit at home and when you walk along the road, when you lie down and when you get up." Men should actively engage in their families' spiritual renewal and their children's upbringing, teaching the principles of faith, love, forgiveness, and integrity through their words and actions.
Communication plays a pivotal role in fostering healthy relationships within the family. Men should strive for open and honest communication where each family member feels heard and respected. They should encourage dialogue, active listening, and empathy to strengthen the bond between them and their families. Engaging in meaningful conversations with their loved ones also provides an opportunity to address any issues or concerns that may arise.
Men should provide guidance and support for their children and create a habitat where they feel safe, loved, and free to express their thoughts and emotions.
Protection and Provision (biblical responsibilities of a man): Just as Christ is the protector and provider of the church, Christian men are called to protect and provide for their families. This includes ensuring the physical, emotional, spiritual, and financial well-being of their loved ones, acting as a shield against harm, and providing a sense of security. Providing a stable and nurturing abode is essential for a family's growth.
In 1 Timothy 5:8, the Bible emphasizes the importance of providing for one's family: "But if anyone does not provide for his own, and especially for those of his household, he has denied the faith and is worse than an unbeliever." It is the role of a man to ensure the financial well-being of his family, working diligently and responsibly to meet their needs.
Men should be responsible stewards of the resources—financial, time, and talents—that God has entrusted to them. They should manage these resources in alignment with biblical principles.
Men should ensure that the physical needs of their families are met by fulfilling the role of a provider. This entails working diligently, managing finances responsibly, and making wise decisions for the well-being of their loved ones. They should recognize that provision extends beyond material needs; emotional and spiritual support is equally vital.
Just as God provides protection and security for His people, men are required to do the same for their families. In Psalm 82:3-4, it is written, "Defend the weak and the fatherless; uphold the cause of the poor and the oppressed. Rescue the weak and the needy; deliver them from the hand of the wicked."
Conflict Resolution (biblical responsibilities of a man): Men should promote harmony within the family by addressing conflicts with patience, understanding, and a desire for reconciliation. They should teach healthy ways to manage disagreements.
Men should be attentive to the emotional well-being of their family members. They should offer a listening ear, comfort, and compassion during times of joy, sorrow, or distress. They must cultivate an atmosphere where emotions can be expressed and understood without judgment. This helps to strengthen the emotional resilience of their loved ones and fosters a sense of security.
They should establish clear boundaries and implement appropriate discipline, as it is essential to maintain order and teach accountability. They must set guidelines that align with their family's values and communicate them effectively. However, discipline should always be administered with love, aiming to correct behavior rather than belittle or harm. They should balance firmness with compassion, providing guidance and redirection when necessary.
Encouraging Growth (biblical responsibilities of a man): Men should continually strive for personal growth in all aspects of their lives, including their spiritual, emotional, and intellectual well-being. They must engage in regular self-reflection and identify areas for improvement. They should seek wisdom from God, fellow believers, and resources that align with biblical principles. This allows them to better serve their families and embrace their role as family heads.
They must create an abode where family members are encouraged to pursue personal growth, talents, and passions. They should support their families' dreams and aspirations.
As 1 Thessalonians 5:11 says, "Therefore encourage one another and build each other up, just as in fact you are doing."
Leading by Example (biblical responsibilities of a man): Demonstrating qualities such as humility, integrity, honesty, and compassion in all aspects of life, a Christian man's actions should reflect his faith and the values he holds.
While men are called to be leaders, they must do so with humility and seek wisdom from God. James 1:5 states, "If any of you lacks wisdom, you should ask God, who gives generously to all without finding fault, and it will be given to you." Men should lead with modesty, acknowledging their dependence on God's wisdom and guidance. By doing so, they can navigate life's challenges with grace and understanding.
Men who are called to be leaders within their households and communities must demonstrate integrity and responsibility. In 1 Corinthians 16:13, it is stated, "Be on your guard, stand firm in the faith, be courageous, be strong." A man should lead by example, uphold moral principles, make wise decisions, and guide his loved ones toward righteousness.
Serving Others (biblical responsibilities of a man): Following the example of Jesus, a Christian man is called to serve others in humility and love. This includes serving within the church, the community, and wherever there is a need.
Men are called to assist and uplift those who are in need or less fortunate. Galatians 6:2 advises, "Carry each other's burdens, and in this way, you will fulfill the law of Christ." Men should actively seek opportunities to help others, whether through acts of kindness, charity or providing emotional support. By doing so, they can contribute to a stronger and more compassionate society. They should provide a safe and nurturing habitat for open communication. They should be emotionally available, actively listening, and offering guidance and support.
Demonstrate Humility and Servant Leadership (biblical responsibilities of a man): Contrary to the world's perception of leadership, the Bible teaches that men should embrace meekness and adopt a servant-leader mindset. In Matthew 20:26-28, Jesus instructs, "Instead, whoever wants to become great among you must be your servant, and whoever wants to be first must be your slave—just as the Son of Man did not come to be served, but to serve, and to give his life as a ransom for many." Men should display modesty, selflessness, and a willingness to serve others, mirroring the example set forth by Jesus Christ.
Men should exemplify humility and a willingness to admit mistakes. They must apologize when they are wrong and seek forgiveness when necessary.
Honor Commitments and Be Trustworthy (biblical responsibilities of a man): Reliability and trustworthiness are essential qualities that men should possess. The Bible emphasizes the significance of honoring commitments and being true to one's word. Psalm 15:2 proclaims, "Those who keep their oath even when it hurts" as people who are righteous. Men should strive to be men of honor, keeping their promises and remaining faithful to their responsibilities.
Investing Time and Effort (biblical responsibilities of a man): Men should show their families that they are a priority by investing adequate time and effort into nurturing their relationships. They must plan family activities, outings, and vacations to create lasting memories and strengthen the bond among family members. They should be present and engaged in both the joys and challenges of everyday life. Their involvement will promote a sense of belonging and safety within their household.
Prayer and Intercession (biblical responsibilities of a man): A man should lead his family in prayer and intercede on their behalf. He must seek God's guidance, protection, and blessings for his loved ones. He must pray for his family members' needs, concerns, and spiritual growth.
By showing vulnerability, meekness, and a sincere connection with God, a man can inspire his loved ones to develop a personal relationship with the divine. This, in turn, cultivates a strong foundation for spiritual growth and maturity within the family.
The involvement of men in the prayer life of a family strengthens the bond between family members. It creates a shared experience that reinforces a sense of togetherness and unity. Men who take the lead in prayer contribute to the overall well-being of the family, nurturing a habitat where love, respect, and support flourish.
Biblical Responsibilities of a Man – Bible Verses
These verses highlight the biblical responsibilities of a man, particularly within the context of marriage, family, and personal character. It's important to approach these responsibilities with modesty, seeking guidance from God, and striving to fulfill them in a way that reflects Christ's example of love, sacrifice, and servant leadership.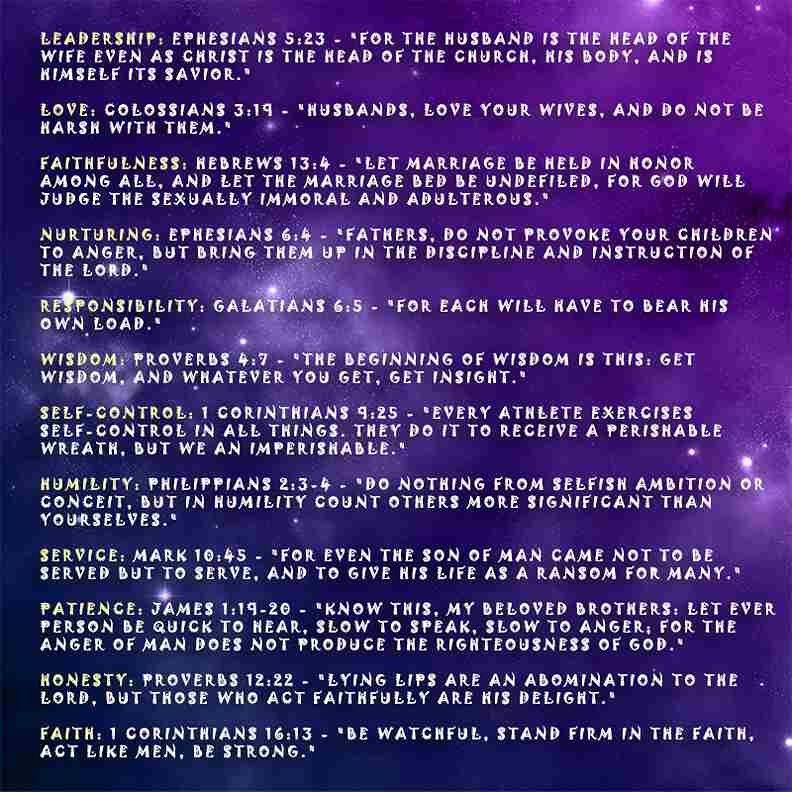 Final Thoughts – Biblical Responsibilities of a Man
It's important to note that these biblical responsibilities of a man are not about exerting control or dominance but rather about fulfilling God-given roles with humility, love, grace, gentleness, and a desire to serve. Every family is unique, and the specific ways these responsibilities are carried out may vary based on individual and societal circumstances. Additionally, these responsibilities are not limited to men; women also play vital roles within Christian households, and a partnership based on mutual respect and collaboration is essential for a thriving Christian family and for creating a harmonious and God-honoring home environment.
Ultimately, the role of a Christian man is multifaceted and dynamic, and it involves a commitment to God, family, and a life of service. It's important to note that no one is perfect, and grace is key to navigating the challenges and growth that come with this role. Also, while these biblical responsibilities of a man are often associated with males, many of them are applicable to females as well.
The Bible provides a roadmap for men to fulfill their roles and responsibilities with purpose and conviction. By adhering to the biblical expectations of a husband and a father and embracing the 12 biblical responsibilities of a man outlined in this article, men can cultivate strong, loving, and Christ-centered relationships, lead by example, and positively impact their families and communities. Let us make an effort to live out these responsibilities, seeking wisdom and guidance from God as we navigate the noble journey of fulfilling our roles as men according to the Scripture.
In conclusion, the role of a Christian man in his home encompasses far more than being a provider. It requires spiritual leadership, love and honor towards one's wife, nurturing children, integrity, effective communication, emotional support, investing time and effort, and constant personal growth. By embracing these crucial responsibilities, a man can create a harmonious and loving abode that reflects God's grace and love within his household.
Experience an insightful journey into Christian Living, deciphering its essence and its potential to fuel spiritual enrichment and inner peace.