Heartfelt and mindful Christmas prayers help us reflect on the joy we have in Christ Jesus and the many blessings He has bestowed upon us. Here are 10 Powerful Prayers that will help us focus on the real meaning of Christmas: the birth of Jesus Christ our Lord and Savior.
Christmas Prayers – An In-depth Look
Celebrate this season with thoughtful and thankful Christmas prayers that provide us hope despite all the struggles and hardships we have faced this year. These prayers will bring us closer to God. We will remember the love of God and the gift of Jesus when we say these prayers with a thankful heart. The passionate words and meditations of these prayers will set the tone for an amazing festive season and spread Christmas cheer and joy.
These Christmas prayers, which can be offered during Christmas Eve, Christmas Day meal, or on Christmas morning, will provide us comfort during difficult times, help us remember our creator, enable us to look at the bright side of life, and remind us what truly matters in life.
These Christmas prayers will bring us and our loved ones into God's loving presence and provide us the peace that only He can give. Be grateful to God that He gave His only begotten son so we can be assured of salvation and eternal life. Always be thankful to Him for His wisdom, faithfulness, love, mercy, protection, guidance, care, hope, and encouragement. Connect with God with these wholehearted and sincere prayers.
We can make these prayers a part of our festive tradition and give glory to God for His promises that lift our spirits and fill our hearts with radiance and warmth. We should recognize the deeper significance of the birth of the Christ Child and ignore the fanfare and commercialization of the season.
This is the confidence we have in approaching God: that if we ask anything according to his will, he hears us. 1 John 5:14
12 Prayers for the Season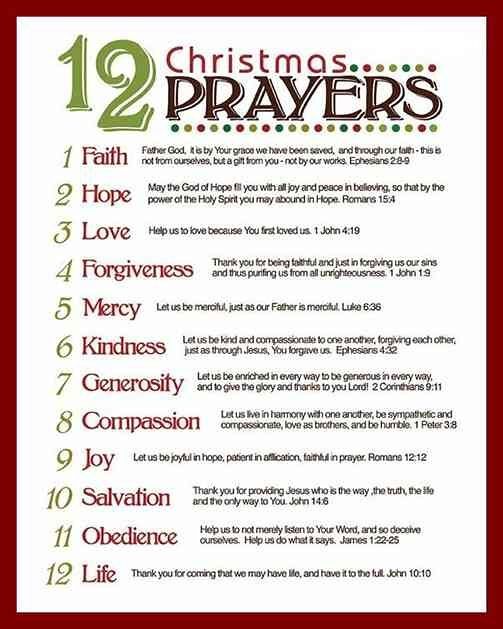 Do you find yourself struggling with how to pray and what to pray for? Read our popular prayers for various situations and needs that are directed to fulfill personal needs or deep spiritual enlightenment. These prayers will comfort, help, and guide you when you are worried, suffering loss, or facing uncertainty in your life.
Get inspired this holiday season with our fantastic collection of Christmas articles, which includes remarkable facts, fascinating histories, joyful melodies, spectacular activities, inspiring Bible verses, riveting stories, passionate prayers, and much more.