Here are 10 awe-inspiring Bible Verses about Fasting that offer guidance on how to pray and what to pray during this Lent season. We also present 10 wonderful Quotes about Fasting that will guide us during this Lent period.
Bible verses about fasting teach us the value of fasting, which is primarily seeking God's guidance, protection, and His supreme will in our lives. Both the Old Testament and New Testament Bible verses about fasting talk about how we should cease eating and drinking, and purifying ourselves from anything that contaminates body and spirit. Bible verses about fasting encourage us to become closer to God by reading the scriptures and praying to Him with a broken and contrite heart.
Fasting is referred to about seventy-seven times throughout the Holy Bible. Two types of fasting are mentioned in the Scripture: public and private. Both these types of fasting enhance our soul and spirit and allow us to go deeper in our prayer life.
What Does God Say About Fasting in the Bible?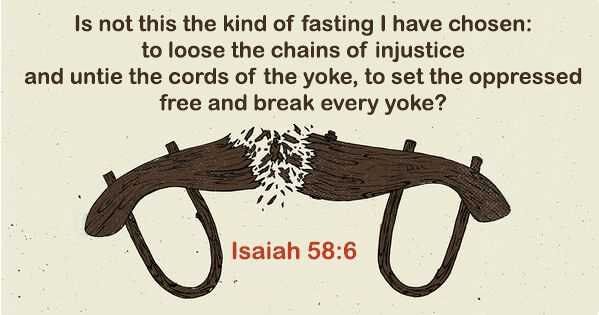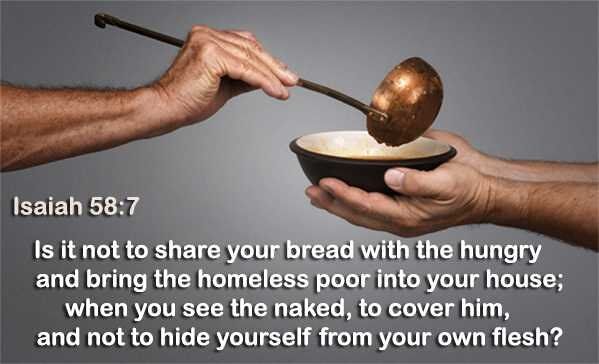 Jesus' Teaching on Fasting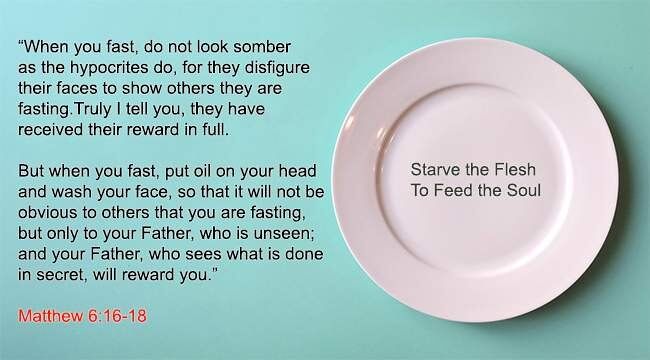 Encouraging Bible Verses About Fasting
Fasting to Return to God with Repentance

: Therefore also now, saith the Lord, turn ye even to me with all your heart, and with fasting, and with weeping, and with mourning: Joel 2:12 7 And he caused it to be proclaimed and published through Nineveh by the decree of the king and his nobles, saying, Let neither man nor beast, herd nor flock, taste any thing: let them not feed, nor drink water: 8 but let man and beast be covered with sackcloth, and cry mightily unto God: yea, let them turn every one from his evil way, and from the violence that is in their hands. 9 Who can tell if God will turn and repent, and turn away from his fierce anger, that we perish not? 10 And God saw their works, that they turned from their evil way; and God repented of the evil, that he had said that he would do unto them; and he did it not. Jonah 3:7-10

Fasting During Difficult Times:

And it came to pass, when I heard these words, that I sat down and wept, and mourned certain days, and fasted, and prayed before the God of heaven, Nehemiah 1:4
Fasting During Sickness: 13 But as for me, when they were sick, my clothing was sackcloth: I humbled my soul with fasting; and my prayer returned into mine own bosom. 14 I behaved myself as though he had been my friend or brother: I bowed down heavily, as one that mourneth for his mother. Psalm 35:13-14

Fasting with Fellow Believers (Setting Out on Mission):

2 As they ministered to the Lord, and fasted, the Holy Ghost said, Separate me Barnabas and Saul for the work whereunto I have called them. 3 And when they had fasted and prayed, and laid their hands on them, they sent them away. Acts 13:2-3

Fasting for Mourning the Loss of a Loved One:

They mourned, and wept, and fasted until even, for Saul, and for Jonathan his son, and for the people of the Lord, and for the house of Israel; because they were fallen by the sword. 2 Samuel 1:12

Fasting for Humbling Oneself:

27 And it came to pass, when Ahab heard those words, that he rent his clothes, and put sackcloth upon his flesh, and fasted, and lay in sackcloth, and went softly. 28 And the word of the Lord came to Elijah the Tishbite, saying, 29 Seest thou how Ahab humbleth himself before me? because he humbleth himself before me, I will not bring the evil in his days: but in his son's days will I bring the evil upon his house. 1 Kings 21:27-29
Fasting for Special Revelation: I ate no pleasant bread, neither came flesh nor wine in my mouth, neither did I anoint myself at all, till three whole weeks were fulfilled. Daniel 10:3

Fasting for Health and to Seek God's Favor, Purpose, and Vision for life:

8 But Daniel purposed in his heart that he would not defile himself with the portion of the king's meat, nor with the wine which he drank: therefore he requested of the prince of the eunuchs that he might not defile himself. 9 Now God had brought Daniel into favour and tender love with the prince of the eunuchs. 10 And the prince of the eunuchs said unto Daniel, I fear my lord the king, who hath appointed your meat and your drink: for why should he see your faces worse liking than the children which are of your sort? then shall ye make me endanger my head to the king. 11 Then said Daniel to Melzar, whom the prince of the eunuchs had set over Daniel, Hananiah, Mishael, and Azariah, 12 Prove thy servants, I beseech thee, ten days; and let them give us pulse to eat, and water to drink. 13 Then let our countenances be looked upon before thee, and the countenance of the children that eat of the portion of the king's meat: and as thou seest, deal with thy servants. 14 So he consented to them in this matter, and proved them ten days. 15 And at the end of ten days their countenances appeared fairer and fatter in flesh than all the children which did eat the portion of the king's meat. 16 Thus Melzar took away the portion of their meat, and the wine that they should drink; and gave them pulse. Daniel 1:8-16

Fasting for Situation of Impending Danger/Need for Protection:

21 Then I proclaimed a fast there, at the river of Ahava, that we might afflict ourselves before our God, to seek of him a right way for us, and for our little ones, and for all our substance. 22 For I was ashamed to require of the king a band of soldiers and horsemen to help us against the enemy in the way: because we had spoken unto the king, saying, The hand of our God is upon all them for good that seek him; but his power and his wrath is against all them that forsake him. 23 So we fasted and besought our God for this: and he was intreated of us. Ezra 8:21-23 15 Then Esther bade them return Mordecai this answer, 16 Go, gather together all the Jews that are present in Shushan, and fast ye for me, and neither eat nor drink three days, night or day: I also and my maidens will fast likewise; and so will I go in unto the king, which is not according to the law: and if I perish, I perish. 17 So Mordecai went his way, and did according to all that Esther had commanded him. Esther 4:15-17

Fasting for Direction and Discernment (Spiritual Renewal and Guidance):

And I set my face unto the Lord God, to seek by prayer and supplications, with fasting, and sackcloth, and ashes: Daniel 9:3
Bible verses about fasting inspire us to seek and long for closeness with our Almighty Creator. Bible verses about fasting show examples of people who gave up food or drink and prayed, mourned, humbled, and sought God's favor in their lives. Bible verses about fasting will show the various reasons behind people's fasts and will provide us the purpose for our fasting.
Through these examples, we know that God grants special grace for difficult situations, spiritual renewal and guidance, the forgiveness of sins, wisdom and knowledge, and open people's eyes to His wonderful teachings. Moreover, these Bible verses about fasting will teach us the value of spiritual discipline, the spiritual benefits fasting offers, and help us grow an intimate relationship with Jesus Christ.
Inspiring Quotes About Fasting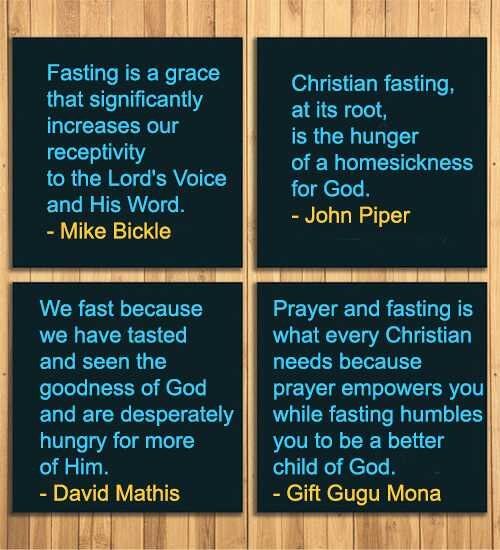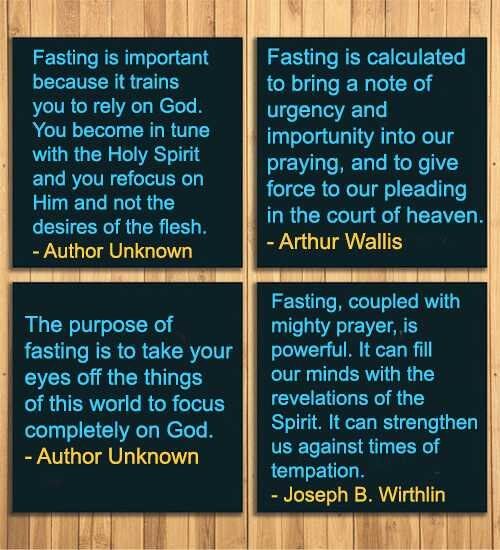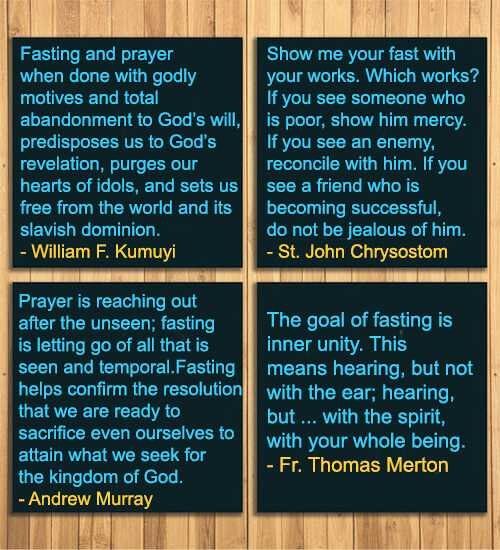 We hope these Bible verses about fasting offering words of wisdom will persuade us to fast during this Lent season as a personal spiritual exercise. We expect these quotes about fasting will stimulate more believers to make it a regular part of their lives. These quotes about fasting will enable us to keep the focus and faith firmly on God during this season of soul searching and reconciliation with our beloved Father.
Our collection of Bible Verses by Topic will encourage you to read the Word of God daily, will target the very issue you are dealing with at the moment, and motivate you to find your strength in Jesus Christ.