These amazing 25 housewarming bible verses or new house bible verses will remind you of our God's awesome love and that He is solely responsible for giving you a new home to dwell in. Whether you have constructed a new home or bought one remember it is a major dream that is unrealizable for many people, but remember unless the LORD builds the house, its builders labor in vain (Psalm 127 1).
Invite God into your new house as He is the source of every good and perfect gift. "Behold, I stand at the door and knock. If anyone hears my voice and opens the door, I will come in to him and eat with him, and he with me." Revelation 3:20
We sincerely pray that these 25 housewarming bible verses or new house bible verses will make your new home a place filled with happiness, laughter, health, contentment, generosity, and hope. And may those who live there and visit know only blessings, peace, and love.
Housewarming Bible Verses
New House Bible Verses (Housewarming Bible Verses)
1. Now therefore may it please you to bless the house of your servant, so that it may continue forever before you. For you, O Lord God, have spoken, and with your blessing shall the house of your servant be blessed forever. 2 Samuel 7:29
2. My people will abide in a peaceful habitation, in secure dwellings, and in quiet resting places. Isaiah 32:18
3. By wisdom a house is built, and by understanding it is established; by knowledge the rooms are filled with all precious and pleasant riches. Proverbs 24:3-4
4. For every house is built by someone, but the builder of all things is God. Hebrews 3:4
5. Prepare your work outside; get everything ready for yourself in the field, and after that build your house. Proverbs 24:27
6. And Jesus said to him, "Today salvation has come to this house, since he also is a son of Abraham." Luke 19:9
May the LORD bless you (Housewarming Bible Verses)
7. The Lord bless thee, and keep thee. Numbers 6:24
8. The Lord make his face shine upon thee, and be gracious unto thee. Numbers 6:25
9. The Lord lift up his countenance upon thee, and give thee peace. Numbers 6:26
10. He gives the barren woman a home, making her the joyous mother of children. Praise the Lord! Psalm 113:9
11. Grace to you and peace from God our Father and the Lord Jesus Christ. Philippians 1:2
God's Gift (Housewarming Bible Verses)
12. Every good gift and every perfect gift is from above, coming down from the Father of lights, with whom there is no variation or shadow due to change. James 1:17
13. There is nothing better for a person than that he should eat and drink and find enjoyment in his toil. This also, I saw, is from the hand of God, Ecclesiastes 2:24
14. You shall eat in plenty and be satisfied, and praise the name of the Lord your God, who has dealt wondrously with you. And my people shall never again be put to shame. Joel 2:26
Thank God Always (Housewarming Bible Verses)
15. Give thanks in all circumstances; for this is the will of God in Christ Jesus for you. 1 Thessalonians 5:18
16. Oh give thanks to the Lord, for he is good; for his steadfast love endures forever! 1 Chronicles 16:34
17. giving thanks always and for everything to God the Father in the name of our Lord Jesus Christ, Ephesians 5:20
Reminders (Housewarming Bible Verses)
18. Everyone then who hears these words of mine and does them will be like a wise man who built his house on the rock. Matthew 7:24
19. Do all you can to live a peaceful life. Take care of your own business, and do your own work as we have already told you. 1 Thessalonians 4:11
20. The heart of man plans his way, but the Lord establishes his steps. Proverbs 16:9
21. Whatever you do, work heartily, as for the Lord and not for men. Colossians 3:23
22. For I know the plans I have for you, declares the Lord, plans for welfare and not for evil, to give you a future and a hope. Jeremiah 29:11
Love Your New Neighbors (Housewarming Bible Verses)
23. The second is this: 'You shall love your neighbor as yourself.' There is no other commandment greater than these." Mark 12:31
24. Let each of us please his neighbor for his good, to build him up. Romans 15:2
Trust in God (Housewarming Bible Verses)
25. Trust in the Lord with all your heart, and do not lean on your own understanding. In all your ways acknowledge him, and he will make straight your paths. Proverbs 3:5-6
Bonus (Housewarming Bible Verses)
In peace I will both lie down and sleep; for you alone, O Lord, make me dwell in safety. Psalm 4:8
Ten Blessings for Your New Home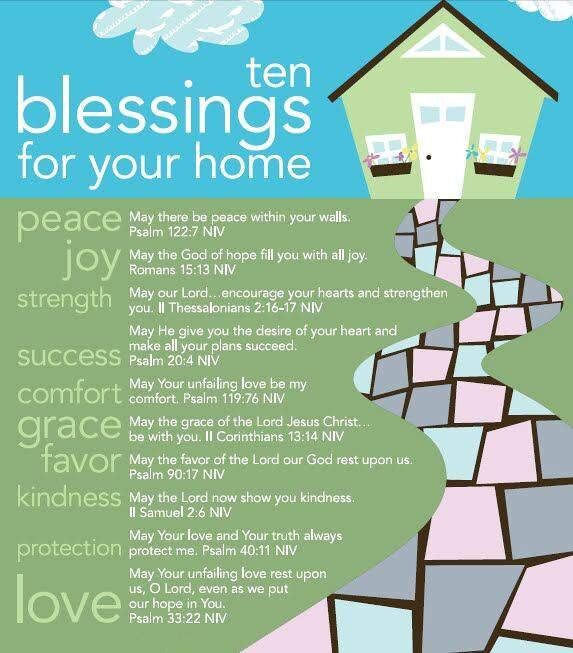 Prayer would have been an integral part of everyday activities during your new home build. You should thank God for giving you guidance and wisdom while making decisions regarding your home every single week. You should be thankful and faithful to God that He has given you a new home to dwell in while so many people more deserving than you are suffering in this world without a roof on their heads. Always remember Christ is the cornerstone of your faith and family, and you should honor Him in all things that you do and say.
These 25 housewarming bible verses or new house bible verses will make moving into your new home a great blessing and start of new beginnings.
May God Bless You (Housewarming Bible Verses)
And thus you shall greet him: 'Peace be to you, and peace be to your house, and peace be to all that you have. 1 Samuel 25:6
These housewarming bible verses or new house bible verses will sincerely help you to restart your life with renewed hope and strength.
Our collection of Bible Verses by Topic will encourage you to read the Word of God daily, will target the very issue you are dealing with at the moment, and motivate you to find your strength in Jesus Christ.