We're excited to present the best 30 birthday Bible verses that will provide a divine touch to the special day. These inspirational birthday Bible verses will make the occasion even more memorable. The birthday Bible verses will also instill a feeling of thanksgiving into the occasion. These birthday Bible verses remind us that God created every person and He has a wonderful plan for each year of our lives.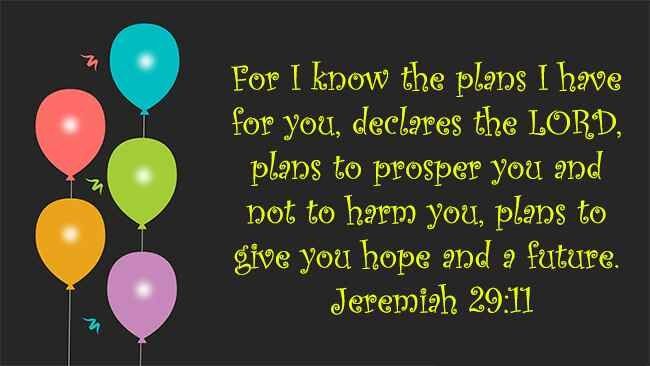 This compilation of birthday Bible verses can be used as blessings or prayers. God's love and promises are discussed in the passages, as well as His awesome presence, strength, and protection.
The blessing birthday Bible verses are also great for forwarding to someone on their birthday to celebrate God's goodness in their lives. As a lovely way to encourage and inspire, this uplifting and thankful birthday Bible verses can be sent in a card, by text, or on social media.
Birthdays can be an opportunity to reflect on all that God has accomplished in our lives and think about His faithfulness. Birthdays are significant events in our lives and demonstrate how the Absolute Being has aided us in overcoming adversity by instilling supernatural hope and peace in our journey on this planet. Taking the time to ponder on our walk with God is important because it helps us remember the Almighty's awesome works in our lives.
Birthdays provide an opportunity to express gratitude to our Creator for another year of life and show our love for family and friends. We should be overcome with gratitude for another year and focus on the Supreme Being's promises for a good and fruitful new year.
God is the source of life, and He cares about us. We should thank the Lord for all that He has given us and also all the good things that are still to come. Our Heavenly Father showers us with numerous blessings, and the Holy Scripture assures us that His gifts never run out. Growing older may not always feel like a blessing, but God's beneficent presence can make the journey a lot easier.
Giving biblical motivation on anyone's birth anniversary is a fantastic concept. Instead of just giving people heartfelt gifts, we can share the good word helping them to focus on the Lord's unwavering love and His faithfulness. The love of God is the best gift anybody could ever get.
When a friend or family member's birthday approaches, we should reach out to them and encourage them to rest and take solace in God's purpose for their lives. With the guidance of God's precious Word, wish your friend or loved one a happy birthday. Remember, God's word can benefit individuals in ways we can't conceive, and therefore we should greet everyone we care about with Bible verses.
Best Birthday Bible Verses
These birthday Bible verses will help people evaluate where they might need to make changes to grow closer to Jesus and better live out His teachings. The birthday Bible verses will also enable people to stay on track at every age or stage of life, grow in the Word of God, and move closer to God.
If you ever run out of birthday quotes to write a letter for a friend or a family member's special day, or if you want to make your next social media "Happy Birthday" post a little more personal, the best way to start is by sharing an amazing biblical verse. The Good Book is brimming with encouraging messages for commemorating this significant anniversary of a loved one. Providing hope and perspective for the coming year, love from a God who made you unique in every way, and security in knowing He's been with you since the beginning and will be with you until the end will make this birthday special for your friend or a family member.
These birthday Bible verses fit the bill if you're looking for a special birthday quote for your brother or sister or friend, a meaningful birthday statement for your mother, or a passionate birthday quote for your spouse.
Our collection of Bible Verses by Topic will encourage you to read the Word of God daily, will target the very issue you are dealing with at the moment, and motivate you to find your strength in Jesus Christ.