What the Bible Tells You About Wisdom
Unlock the keys to lead a successful Christian life filled with discretion, diligence, introspection, and prudence by knowing what the scriptures say about wisdom. Bible verses about wisdom are pure knowledge, hence assimilate and absorb the Word through meticulous study. Ask our good, gracious, and kind God to grant you wisdom, knowledge, and understanding so that you may a live peaceful and contented life in this world.
Here are 23 inspiring bible verses about wisdom (wisdom quotes).
Bible Verses About Wisdom (Wisdom Quotes)
Psalm 19:7 (NIV)
The law of the Lord is perfect, refreshing the soul. The statutes of the Lord are trustworthy, making wise the simple.
Psalm 111:10 (NIV)
The fear of the Lord is the beginning of wisdom; all who follow his precepts have good understanding. To him belongs eternal praise.
Proverbs 2:6 (NIV)
For the Lord gives wisdom; from his mouth come knowledge and understanding.
Proverbs 4:6-7 (NIV)
6 Do not forsake wisdom, and she will protect you; love her, and she will watch over you. 7 The beginning of wisdom is this: Get wisdom. Though it cost all you have, get understanding.
Proverbs 9:10 (NIV)
The fear of the Lord is the beginning of wisdom, and knowledge of the Holy One is understanding.
Proverbs 10:8 (NIV)
The wise in heart accept commands, but a chattering fool comes to ruin.
Proverbs 11:2 (NIV)
When pride comes, then comes disgrace, but with humility comes wisdom.
Proverbs 13:3 (NIV)
Those who guard their lips preserve their lives, but those who speak rashly will come to ruin.
Proverbs 14:29 (NIV)
Whoever is patient has great understanding, but one who is quick-tempered displays folly.
Proverbs 15:5 (NIV)
A fool spurns a parent's discipline, but whoever heeds correction shows prudence.
Proverbs 17:28 (NIV)
Even fools are thought wise if they keep silent, and discerning if they hold their tongues.
Proverbs 19:20 (NIV)
Listen to advice and accept discipline, and at the end you will be counted among the wise.
Ecclesiastes 2:26 (NIV)
To the person who pleases him, God gives wisdom, knowledge and happiness…
Ecclesiastes 7:12 (NIV)
Wisdom is a shelter as money is a shelter, but the advantage of knowledge is this: Wisdom preserves those who have it.
Romans 11:33 (NIV)
Oh, the depth of the riches of the wisdom and knowledge of God! How unsearchable his judgments, and his paths beyond tracing out!
1 Corinthians 1:30 (NIV)
It is because of him that you are in Christ Jesus, who has become for us wisdom from God—that is, our righteousness, holiness and redemption.
Ephesians 1:17 (NIV)
I keep asking that the God of our Lord Jesus Christ, the glorious Father, may give you the Spirit of wisdom and revelation, so that you may know him better.
Colossians 2:2-3 (NIV)
2 My goal is that they may be encouraged in heart and united in love, so that they may have the full riches of complete understanding, in order that they may know the mystery of God, namely, Christ, 3 in whom are hidden all the treasures of wisdom and knowledge.
James 1:5-6 (KJV)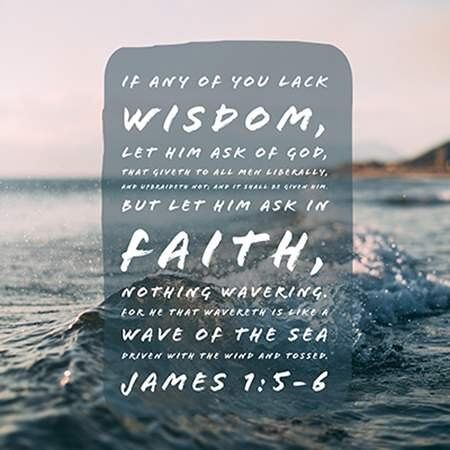 James 3:13 (NIV)
Who is wise and understanding among you? Let them show it by their good life, by deeds done in the humility that comes from wisdom.
James 3:17 (NIV)
17 But the wisdom that comes from heaven is first of all pure; then peace-loving, considerate, submissive, full of mercy and good fruit, impartial and sincere.
Why We Need Wisdom?
Wisdom is, first and foremost, from the Lord. Everyone needs wisdom in every area of their lives. These Bible verses about wisdom will give us encouragement, comfort, and inspiration. You will gain understanding and protection by meditating on these scriptures. When you desire wisdom, we need to go to God, read His Word, and be encouraged with these Bible verses about wisdom.
In these 23 inspiring Bible verses about wisdom, we will see how pursuing God's wisdom can change our lives.
Live your live with with shrewdness, thoroughness, assiduity, honesty, and humility. Our God is the provider of wisdom and hence listening and following His commands will pave the way for wonders and miracles in our lives. So according to, Daniel 2:20 (NIV)
"Praise be to the name of God forever and ever; wisdom and power are his." Amen and Amen.
Our collection of Bible Verses by Topic will encourage you to read the Word of God daily, will target the very issue you are dealing with at the moment, and motivate you to find your strength in Jesus Christ.