Here we explore 12 Bible verses about falling down and getting back up again. We also discover four keys to make epic comebacks.
12 Bible Verses About Getting Back Up Again
Our loving God is faithful and always takes care of us. When we make mistakes and fall, He picks us up, gives us a second chance, and makes us whole again. He carries us in His mighty arms and will never forsake His children. God is full of compassion, and He knows what we need, what we are going through, and tells us that He has a plan to address our situation. We should live by His Word and hold on to His eternal promises so that we will restore, empower, and strengthen our mind, body, and soul every day.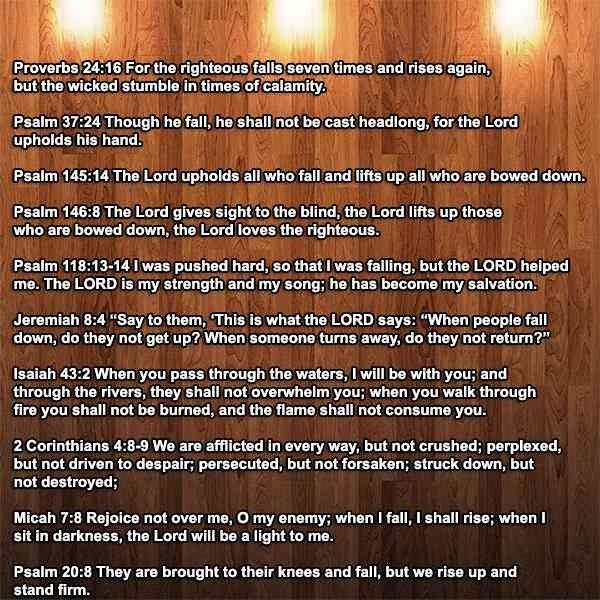 Falling and Getting Back Up (Make a Comeback)
Do you find it always difficult to getting back up again after you experience a fall in any sphere of your life? Have you analyzed what caused you to fall in the first place? Whether it was insecurity, fear, lack of planning, or focus?
You will have pessimistic and defeatist thoughts whenever you fall, and you can hear your mind saying that you are no good and it is not worth the effort. Falling is hard, but getting back up again is even harder.
4 Keys to Getting Back Up Again When Life Knocks You Down
Given below are four keys that will help you in getting back up again after a fall.
Revise Your Strategy

– Ponder on what you might have done wrong the last time. Look back at your mistakes and do not commit them again so you can achieve better results when the same situation comes along. Analyze the circumstances and use a different approach the next time, which helps you in getting back up again.

Change Your Attitude

– You can allow the failure or the fear of failure to cripple you or let it motivate you to get back in the saddle. The decision is yours to make. Remember that reality is something you rise above.

Put Things in Perspective

– Think about what will be your plan of action if you fail the next time. You can always give it another shot. Understand that several others before you have experienced similar failures but rose again to have a successful life.

Have a Relaxed State of Mind

– This is extremely important, especially if it is your second or third time. When you have mental blocks, it can cause intense pressure leading you to panic, freeze, or freak out. So, your mind should be relaxed to plan, focus, and learn to make the necessary successful changes in your life so that you will be getting back up again.
Remember, getting back up again is vital for your quality of life and mental health.
Our collection of Bible Verses by Topic will encourage you to read the Word of God daily, will target the very issue you are dealing with at the moment, and motivate you to find your strength in Jesus Christ.