These Bible verses about forgiveness will encourage us to pardon others and remind us that we have all been forgiven of our sins because of Jesus' ultimate atonement on the cross at Calvary. These Bible verses about forgiveness will not only serve as excellent instructions for forgiveness, but they will also show us why pardoning is so vital.
These Bible verses about forgiveness provide specific counsel on forgiveness and demonstrate how we are exonerated by God's compassion and kindness through Christ's blood. In the same manner, we should pardon others and extend grace and love to them, for the sorrow of hatred and resentment can corrupt our hearts and ruin us. When we forgive, animosity and spite are removed, and we become tolerant toward others.
51 Powerful Bible Verses About Forgiveness
Here we present 51 powerful Bible verses about forgiveness.
A Prayer of Gratitude for God's Forgiveness Based on Psalm 103
I thank You, Heavenly Father, for Your mercy and compassion in my life. I thank, Your Holy Name because You have pardoned my transgressions and healed me of all my afflictions. I am grateful to You for rescuing my life from the abyss and lifting me with your kindness and generosity.
You've filled my wants with excellent things, and You've rejuvenated my youth like an eagle's. I thank You, for Your grace and peace, for being forbearing and abundant in love. I salute You for promising not to blame me or hold grudges against me, nor judge me as my sins deserve or punish me for my wrongdoings.
I adore You because your passion stretches higher than the skies above the world. You have banished my trespasses and iniquities as far as the east is from the west.
You are God Almighty from the beginning of time to the end of time, and Your compassion will always be with those who dread your Matchless Name. Thank You, Supreme Being, for Your goodness. May Your face shine upon me and my dear ones now and always. I ask this in the Majestic Name of Jesus, my Lord and Savior. Amen!
These 51 Bible verses about forgiveness show us that we can always start over with God because of the infinite generosity offered to us by Jesus' death and resurrection. These Bible verses about forgiveness will also help us become better at forgiving.
These Bible verses about forgiveness can help us to be more understanding and experience the peace that it brings. Rev. T.D. Jakes' comment below demonstrates that forgiveness isn't just being benevolent to others; it's also showing kindness to ourselves.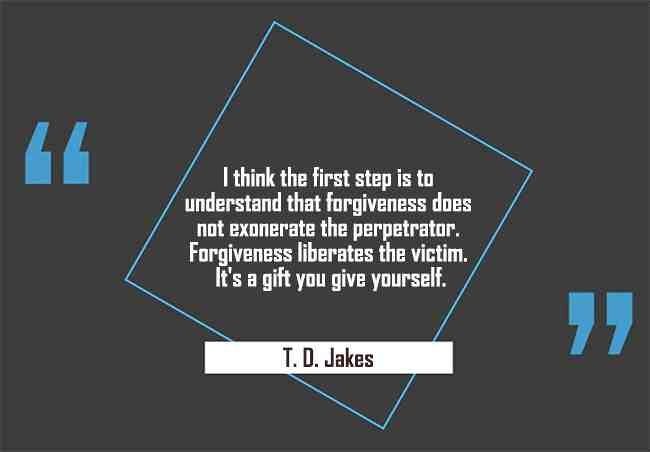 Our collection of Bible Verses by Topic will encourage you to read the Word of God daily, will target the very issue you are dealing with at the moment, and motivate you to find your strength in Jesus Christ.