Here are 21 Bible verses about fear, which will remind us that God is always in control of our lives, and He will protect us and shield us from all harm. We should overcome fear through faith by reading these live-giving Bible verses about fear, which will soothe our souls, calm our spirits, and give us a fresh outlook on living.
What is Fear and How to Overcome Fear?
Fear is an unpleasant emotion caused by the belief that something or someone will cause pain, danger, harm, or loss to us. Fear paralyzes us and renders us incapable of taking proper decisions, which affects our performance and increases stress. Most of our fears are imaginary and irrational. But we put so much belief in them that they seem to look real to us. Fear creeps on us when we least expect it. We can either run away from fear or fight against it.
The only way we can do it is by getting God on our side and have faith in Him that He will fight for us and provide us the strength to overcome difficulties. Our anchor should be set down into Christ, and Christ only. Everything else is shaky ground. He will restore our vision and revive our confidence if we have blind faith in Him.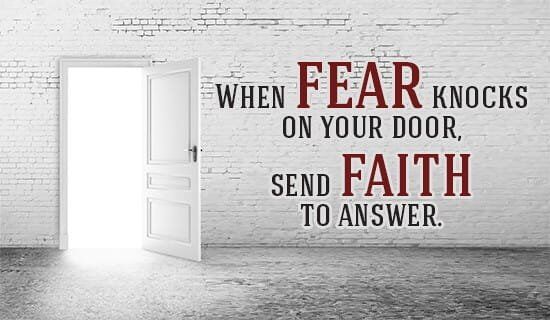 The source of so many bad decisions and spiritual pitfalls in our lives is fear. Fear makes us distrust God and leads us to believe that we will fail, be betrayed, or go in the wrong direction. When fear controls us, we disobey God, and our peace and joy are gone. We are living in troubled times and feel that the walls are closing in on us. Our world is full of natural disasters, crime, conflicts, wars, persecution, violence, unemployment, diseases, poverty, social discrimination, and hatred. We spent too much worrying about our children's future, our safety, and financial uncertainties.
However, the Bible is our source of comfort in these troubled times and instructs us to turn our eyes from ours fears to God Almighty, who will cover us from all troubles, calm the storms in our hearts and mind, and protect us from anything and everything that is not according to our destiny. Remember, Fear not is the most repeated command in the Bible, and there are 365 Fear nots, one for every day of the year.
25 Bible Verses About Fear (Bible Quotes About Fear)
These Bible verses about fear will help us in more ways than we can possibly imagine. These Bible verses about fear will help us overcome fear of public places, heights, loneliness, failure, commitment, and much more.
God is our refuge and strength, a very present help in trouble. Therefore we will not fear though the earth gives way, though the mountains be moved into the heart of the sea, though its waters roar and foam, though the mountains tremble at its swelling. Psalm 46:1–3
I sought the Lord, and he answered me and delivered me from all my fears. Those who look to him are radiant, and their faces shall never be ashamed. Psalm 34:4–5
For I, the LORD your God, hold your right hand; it is I who say to you, Fear not, I am the one who helps you. Isaiah 41:13
Even though I walk through the valley of the shadow of death, I will fear no evil, for you are with me; your rod and your staff, they comfort me. Psalm 23:4
Peace I leave with you; my peace I give to you. Not as the world gives do I give to you. Let not your hearts be troubled, neither let them be afraid. Luke 14:27
The Lord is my light and my salvation; whom shall I fear? The Lord is the stronghold of my life; of whom shall I be afraid? Psalm 27:1
Fear not, little flock, for it is your Father's good pleasure to give you the kingdom. Luke 12:32
4 He will cover you with his feathers, and under his wings you will find refuge; his faithfulness will be your shield and rampart. 5 You will not fear the terror of night, nor the arrow that flies by day, Psalm 91:4–5
And the LORD said to Joshua, Do not fear and do not be dismayed. Take all the fighting men with you, and arise, go up to Ai. See, I have given into your hand the king of Ai, and his people, his city, and his land. Joshua 8:1
Say to those who have an anxious heart, 'Be strong; fear not! Behold, your God will come with vengeance, with the recompense of God. He will come and save you. Isaiah 35:4
And do not fear those who kill the body but cannot kill the soul. Rather fear him who can destroy both soul and body in hell. Matthew 10:28
But fear not, O Jacob my servant, nor be dismayed, O Israel, for behold, I will save you from far away, and your offspring from the land of their captivity. Jacob shall return and have quiet and ease, and none shall make him afraid. Jeremiah 46:27
Fear not, for I am with you; be not dismayed, for I am your God; I will strengthen you, I will help you, I will uphold you with my righteous right hand. Isaiah 41:10
Fear not, O land; be glad and rejoice, for the LORD has done great things! Joel 2:21
So have no fear of them, for nothing is covered that will not be revealed, or hidden that will not be known. Matthew 10:26
But now thus says the LORD, he who created you, O Jacob, he who formed you, O Israel: Fear not, for I have redeemed you; I have called you by name, you are mine. Isaiah 43:1
Fear not, therefore; you are of more value than many sparrows. Matthew 10:31
So we can confidently say, The Lord is my helper; I will not fear; what can man do to me? Hebrews 13:6
The LORD is with me; I will not be afraid. What can mere mortals do to me? Psalm 118:6
…for God gave us a spirit not of fear but of power and love and self-control. 2 Timothy 1:7
When I saw him, I fell at his feet as though dead. But he laid his right hand on me, saying, 'Fear not, I am the first and the last… Revelation 1:17
Overcome Fear through Faith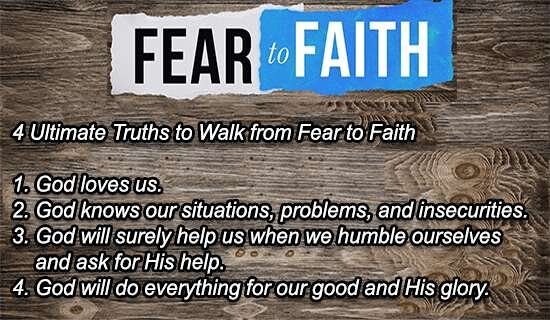 We should read these Bible verses about fear every day, soak them in our hearts, and replace our fears with these verses, so we realize the power they hold as they are God's Words. These Bible verses about fear will break the bondage of fear and set us free from distress. These Bible verses about fear will encourage us to have hope in Christ and assure us that our anxieties and worries will be gone soon. These Bible verses about fear will strengthen our belief in God and encourage our soul to be joyful.
We should read and ponder each of these Bible verses about fear to help us overcome our inner doubts and outer obstacles. Also, read Psalm 91 and Psalm 121 every morning to overcome fear and anxiety and live life to the fullest.
Our collection of Bible Verses by Topic will encourage you to read the Word of God daily, will target the very issue you are dealing with at the moment, and motivate you to find your strength in Jesus Christ.