Take our book of Judges quiz right now to see how much you know about the 12 Judges of Israel. The Book of Judges is a Deuteronomic historical book found in the Old Testament. It is the seventh book in the Holy Bible.
The book chronicles the tale of the Israelites after Joshua's death, and how they beat their adversaries when they followed God's instructions, but were crushed and afflicted when they sinned against the Holy One. The title of the book refers to the Israelites' leaders during this period when they lacked a monarch.
The book can be broken down into six sections: 1) A look back at the history of the office of Judge, 2) The five Judges, 3) Gideon, 4) The six Judges, 5) Samson, and 6) Israel's confusion and distress.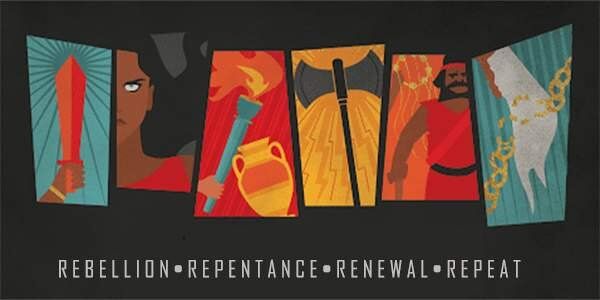 The book focusing on the Israelite leaders describes the tragedies that might result when individuals make their own rules rather than following a set of moral guidelines. "There was no king in Israel in those days," the Book of Judges notes twice, "but every man did what was right in his own sight" (Judges 17:6, 21:25).
Yahweh's sovereignty is a key theme in the book, as is the need of being devoted to the Almighty and His laws above all other deities and rulers. Indeed, the judges' authority is derived from the Spirit of God, rather than through prominent bloodlines, elections, or nominations.
The Book of Judges Quiz
The 12 judges in the Bible were the following: Othniel (1373-1334 B.C.), Ehud (1316-1237 B.C.), Shamgar (1262-1247 B.C.), Deborah (1237-1198 B.C.), Gideon (1191-1151 B.C.), Tola (1149-1126 B.C.), Jair (1126-1105 B.C.), Jephthah (1087-1081 B.C.), Ibzan (1081-1075 B.C.), Elon (1075-1065 B.C.), Abdon (1065-1058 B.C.), and Samson (1069-1049 B.C.).
Questions about the judges of Israel are included below. These questions can be used in a Sunday school or bible study setting to assist all new believers in studying the scriptures. Let's see how much you know about the Judges of Israel.
Take this quiz, and don't forget to share it with your family and friends once you've finished, so they can also get to know more about the judges of Israel. May God continue to bless you.
[HDquiz quiz = "5419"]
Our exquisite collection of bible quizzes will increase your child's knowledge of both the Old and New Testaments. They will provide interesting facts and information about the various characters and events in the Bible.