Every year, Father's Day offers delight to many people as we get to honor the earthly father God gave us as well as the people who filled in when needed as a granddad, a devout guy in the congregation, or a supportive friend. Today, it is time we honor our beautiful and marvelous Heavenly Father. Isn't it incredible that the Creator of the universe chose to be our Father for those of us who have a relationship with Jesus Christ?
Father's Day is a special time to celebrate and honor the Heavenly Father who loves and cares for us every day of our lives. Father's Day offers us an opportunity to say thank you for everything God Almighty has done for us. This Father's Day, the Bible encourages us to pray to our heavenly Father for spiritual blessings, which will motivate us to grow closer to Him and obey His commands willingly.
Our Father in Heaven is a God of Miracles who accepts and adopts us into His family (1 John 3:1).
Do you know that everyone who believes in Jesus becomes a true child of God through the power of the Holy Spirit (Galatians 4:6-7)? Do you know that the Supreme Being is a perfect Father who always protects and provides for his children (Psalm 27:10)?
Seven Truths from Scripture to Know about God's Blessings This Father's Day
Do you know that our Heavenly Father delights in blessing his children?
Jesus reveals a consoling fact about our heavenly Father in Matthew 7: God offers good things to those who ask him. You can ask God to bless you if you believe in Jesus and were saved by his grace. The Bible says that God will provide for you in any situation. You can rely on him to give you all you require.
Here are seven truths about God's blessings.
All good gifts and perfect presents come from God, according to James 1:17.
Those who put their trust in the Absolute One will be blessed (Jeremiah 17:7-8).
Our only reliable source of wealth is God's blessings (Proverbs 10:22).
For every noble cause, God provides far more than we require (2 Corinthians 9:8).
When we follow God's commands and uphold the law, he blesses us (Psalm 84:11).
The fullness of God's benefits and love is shown to us through Jesus Christ (Ephesians 1:3).
In Psalm 67:5-7, we are commanded to express our gratitude and appreciation for God's blessings.
Reflect and rest on these beautiful promises and affirmations of God's Word that show the abundant love of our Father in Heaven. These truths from Scripture will help us draw closer to our Holy Father.
God describes himself as a good Father in his Word. As a good father, he also wants to give his children presents that would encourage them to develop their faith and follow him. We must acknowledge that the most difficult periods in our lives have been overcome through God's strength and grace. He never stops loving us and teaching us. That makes him our role model and our only superhero.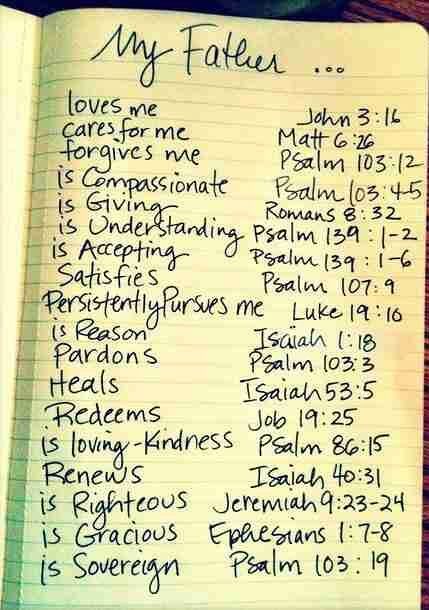 To the All-Powerful Father, Wishing You a Happy Father's Day. We are grateful for your divine wisdom and love, and we adore you with all our heart and soul.
A Fervent Thanksgiving Prayer to Our Heavenly Father (Father's Day Prayer)
Dear Loving Father in Heaven,

Today is Father's Day, and I want to thank You, first and foremost, for being my eternal, unfailing father. Thank You for the promise of everlasting life that You have given unto me before time began. I thank you for the privilege of being called the heir of God and being a joint heir with Christ. I am very grateful for Your daily deliverance from the jaw of temptation and sin and of hell and death.

Thank You for bringing me into this world and always loving, protecting, and guiding me. Thank You for salvation through faith in our Lord and Savior, Jesus Christ. I am grateful for all the suffering and pain that He endured on the cross on my behalf. I am thankful beyond words, that He took my transgressions upon Himself so that I might find redemption and deliverance through Him.

I admire how You take care of me by constantly cleansing and healing my soul every day. Life on this planet can be very challenging at times. Although it is difficult to comprehend why I am subjected to such severe temptations, trials, and difficulties, I am glad that I can find solace in knowing that You are by my side. Thank you for making me rely on you for strength every day.

I applaud you for being there for me every day as I face many obstacles. I give you thanks for providing me with food every day. Feed my mind and body with the bread of life, and aid me as I contribute my part with loving words and acts.

I also thank You for the joy of music and laughter and the splendor and beauty of nature.

Help me to walk worthy of You who called me to Your dominion and glory. I thank You for giving me the strength and courage to stand boldly for the good news of salvation and Your kingdom. I thank You for the fellowship that I have with other believers.

I am so proud to call you ABBA FATHER. You deserve to be praised, honored, cherished, respected, and glorified forever and ever. I thank You for being my kind Redeemer and Friend, the magnificent Creator, the King of kings and Lord of lords, and the Supreme ruler of the cosmos.

Let my actions and words reflect Yours and Your ways. Assist me in spreading your love to others. If I've asked for more than I've thanked you for, kindly pardon me. In the wonderful and majestic name of my Lord and Savior Jesus Christ, whom I adore, accept my thanks and praises.

Glory be to You, My Benevolent Father. Amen!
If you're not sure how or what to pray, look at our most thought-provoking prayers, which are designed to inspire and support your prayer life during difficult times. Remember that the Holy Spirit intercedes for us, and even if you cannot find the words to pray, the Absolute One understands your heart.
Do you find yourself struggling with how to pray and what to pray for? Read our popular prayers for various situations and needs that are directed to fulfill personal needs or deep spiritual enlightenment. These prayers will comfort, help, and guide you when you are worried, suffering loss, or facing uncertainty in your life.