The miracles of Jesus Christ and the countless wonders He performed during His time on earth are amazing. Jesus our Savior changed the lives of everyone around Him and everywhere He went. The Gospels of Matthew, Mark, Luke, and John document many of the miracles performed by Jesus.
These miracles represent only a tiny fraction of the innumerable wonders Jesus had worked in people's lives. This is best explained in the Gospel of John: And there are also many other things which Jesus did, the which, if they should be written everyone, I suppose that even the world itself could not contain the books that should be written. Amen. — John 21:25
Jesus' astonishing miracles during His earthly ministry can be classified into three categories: i) mighty deeds, ii) representing something else, such as the Kingdom of God, and iii) something extraordinary. The 7 types of miracles our Lord and Savior performed on this earth are given below.
7 Types of Miracles Jesus Performed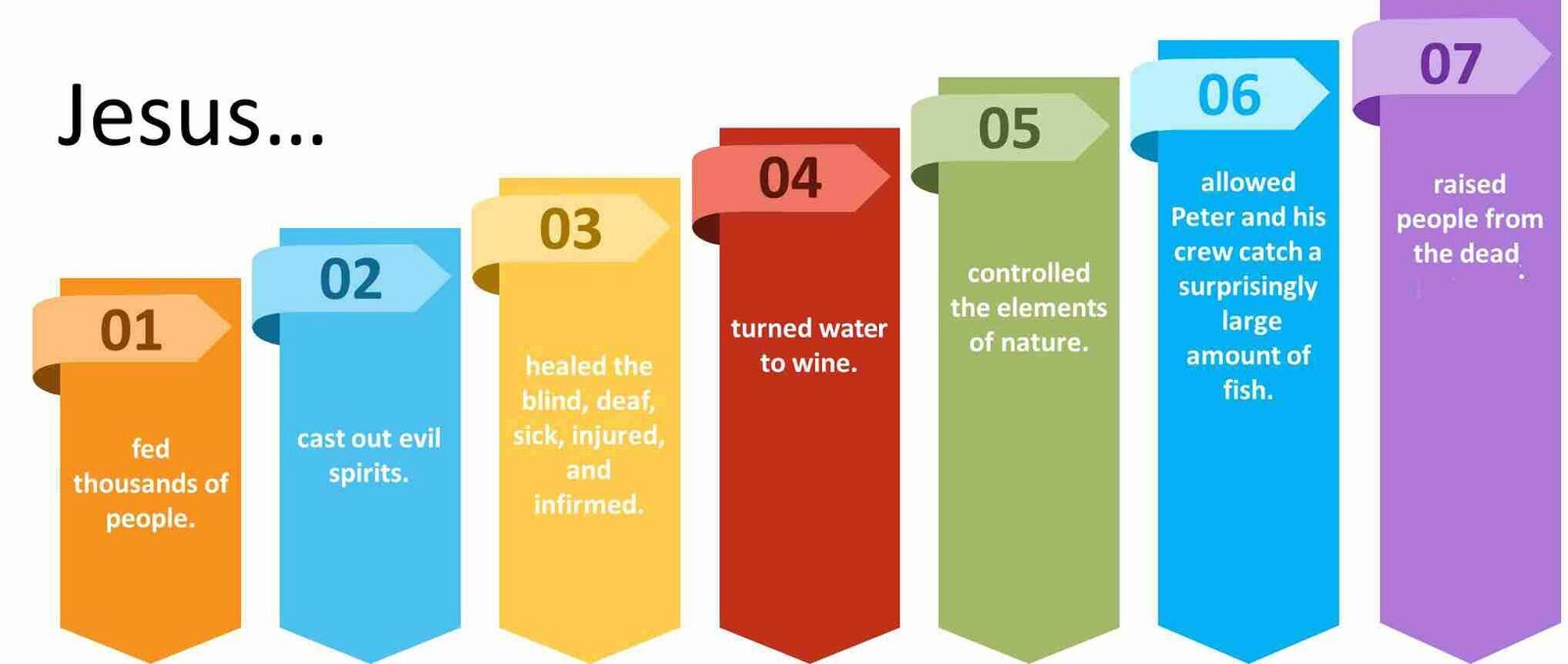 When performing supernatural acts of love and power, Jesus revealed His divine nature, limitless compassion, absolute authority over nature, and showed that He is the Son of God and the promised Messiah. These miracles will build your faith and prepare you to receive your miracle today, as Jesus is unchanged and still does miracles to save and heal us.
Here is a list of 37 miracles performed by Jesus in chronological order, including the miracles of physical healing, Jesus' power over nature, and bringing people back to life, including Lazarus, Jairus' daughter, and the Nain widow's son.
37 Miracles of Jesus in Chronological Order
No.
Miracles of Jesus
Location
Scripture
1
Jesus turns water into wine at a wedding
Cana in Galilee
John 2:1-11
2
Jesus heals a nobleman's son
Capernaum in Galilee
John 4:43-54
3
Jesus drives out an evil spirit from a man
Capernaum in Galilee
Mark 1:21-27
4
Jesus heals Peter's mother-in-law sick with a fever
Capernaum in Galilee
Matthew 8:14-15, Mark 1:29-31, Luke 4:38-39
5
Jesus heals many sick and oppressed in the evening
Capernaum in Galilee
Matthew 8:16-17, Mark 1:32-34, Luke 4:40-41
6
The first miraculous catch of fish
Sea of Galilee
Luke 5:1-11
7
Jesus cleanses a man with leprosy
Galilee
Matthew 8:1-4, Mark 1:40-45, Luke 5:12-14
8
Jesus heals a centurion's paralyzed servant
Capernaum in Galilee
Matthew 8:5-13, Luke 7:1-10
9
Jesus heals a paralytic who was let down from the roof
Capernaum in Galilee
Matthew 9:1-8, Mark 2:1-12, Luke 5:17-26
10
Jesus heals a man's withered hand on the Sabbath
Capernaum in Galilee
Matthew 12:9-14, Mark 3:1-6, Luke 6:6-11
11
Jesus raises a widow's son from the dead
Nain
Luke 7:11-17
12
Jesus calms a storm on the sea
Sea of Gennesaret
Matthew 8:23-27, Mark 4:35-41, Luke 8:22-25
13
Jesus casts demons into a herd of pigs
A city in the country of the Gadarenes
Matthew 8:28-33, Mark 5:1-20, Luke 8:26-39
14
Jesus heals a woman in the crowd with an issue of blood
Galilee
Matthew 9:20-22, Mark 5:25-34, Luke 8:42-48
15
Jesus raises Jairus' daughter back to life
Capernaum in Galilee
Matthew 9:18, 23-26, Mark 5:21-24,
35-43, Luke 8:40-42,
49-56
16
Jesus heals two blind men
Capernaum in Galilee
Matthew 9:27-31
17
Jesus heals a man who was unable to speak
Capernaum in Galilee
Matthew 9:32-34
18
Jesus heals a man, who had an infirmity for 38 years
Bethesda
John 5:1-15
19
Jesus feeds 5,000 men plus women and children
Bethsaida
Matthew 14:13-21, Mark 6:30-44, Luke 9:10-17, John 6:1-15
20
Jesus walks on water
Sea of Galilee
Matthew 14:22-33, Mark 6:45-52, John 6:16-21
21
Jesus heals many sick as they touch his garment
Gennesaret
Matthew 14:34-36, Mark 6:53-56
22
Jesus heals the Syrophenician woman's demon-possessed daughter
Borders of Tyre and Sidon
Matthew 15:21-28, Mark 7:24-30
23
Jesus heals a deaf and dumb man
Coasts of Decapolis
Mark 7:31-37
24
Jesus feeds 4,000 men plus women and children
Galilee
Matthew 15:32-39, Mark 8:1-13
25
Jesus heals a blind man
Bethsaida

Mark 8:22-26
26
Jesus heals a man born blind by spitting on the ground, making some mud with the saliva, and putting it on the man's eyes.
Jerusalem
John 9:1-12
27
Jesus heals a boy with an unclean spirit
Mount Hermon
Matthew 17:14-20, Mark 9:14-29, Luke 9:37-43
28
Miraculous temple tax in a fish's mouth
Capernaum in Galilee
Matthew 17:24-27
29
Jesus heals a blind, mute demoniac
Judea
Matthew 12:22-23, Luke 11:14-23
30
Jesus heals a woman who had been crippled for 18 years
Judea
Luke 13:10-17
31
Jesus heals a man with dropsy on the sabbath
Perea
Luke 14:1-6
32
Jesus cleanses ten lepers on the way to Jerusalem
Borders of Samaria
Luke 17:11-19
33
Jesus raises Lazarus from the dead
Bethany
John 11:1-45
34
Jesus restores sight to Bartimaeus
Jericho
Mark 10:46-52, Luke 18:35-43
35
Jesus withers the fig tree on the road from Bethany
Mount of Olives
Matthew 21:18-22, Mark 11:12-14
36
Jesus heals a servant's severed ear while he is being arrested
Gethsemane
Luke 22:50-51
37
The second miraculous catch of fish
Sea of Tiberias
John 21:4-11
Note: The Sea of Galilee, the Sea of Tiberias, and the Sea of Gennesaret are all one and the same sea.
Brief Mentions of Other Miracles of Jesus
(i) Jesus had cured diseases and cast out evil spirits in women, one of them was Mary Magdalene, from whom seven demons had come out. (Mark 16:9, Luke 8:2). (ii) Jesus continued to heal people and cast out devils even though Herod Antipas wanted to kill him. (Luke 13:31–32)
The miracles of Jesus Christ are a testament to His divinity and absolute power over everything. During His time on earth, many people witnessed His miracles firsthand. People believed in the miracles since there was a sufficient number of them and He performed more miracles than recorded in the four gospels.
The miracles of Jesus Christ were of a wide variety from turning water into wine to raising the dead. There were around 17 specific healing miracles that are recorded. The miracles of Jesus Christ included healing incurable diseases and the ability to heal without being physically present. Also, Jesus Christ exercised authority over all realms. He demonstrated His authority over nature, demons, life, and death.
Moreover, all the miracles of Jesus Christ were performed publicly in front of large crowds such as the feeding of the five thousand and providing food for the four thousand. The miracles were beneficial to people, recorded by eyewitnesses, and performed for a specific purpose without any props.
Are you intrigued by or desire to know more about Jesus, his life, and his teachings, or any aspect of His life on earth? Check our series of articles on Jesus Christ that are both comprehensive and easy to understand.