New Year Resolutions are like dreams that never come true. Every year we make a list of new year resolutions to improve our lives and better manage our career and finances. However, most of the resolutions go unfulfilled. New year resolutions are like rules meant to be broken. New year resolutions are like fast food: easy to come up with, make you feel better in the short-term, and exit your system quickly.
Financial goals are objectives or milestones that you hope to achieve over some time. Financial goals are not one size fits all because each one of us has different priorities. If you do not set your priority or target (financial goals), you will not know where all your money went.
Here are seven simple financial tips that will make your new year resolutions a reality and enable you to make smarter financial decisions for this year and the rest of your lives.
7 Tips to Achieve Your Financial Goals (New Year Resolutions)
List your financial goals (money goals) for a year – You need to have clear and concise financial goals like, "I will have $10,000 in my savings account by this year-end."
Control spending and prioritize your debts – You need to spend less so you have more money to pay off your debts and save for the future. Create a list of all your liabilities and organize them by their interest rates. Pay off those debts with higher interest rates. Create a debt repayment plan.
Stick to your budget – Never spend more than your budgeted amount and save at least 10 percent of your income monthly. Enroll in an automatic savings plan.
Improve your credit score – Get a copy of your credit report to have a clear picture of your creditworthiness. A better credit rating will help you to get loans at lower interest rates. To improve your credit score, you need to pay off those outstanding credit card bills.
Boost retirement savings and create a long-term financial goal sheet – You need to come up with concrete steps to achieve these goals. You can start investing in a systematic investment plan or SIP and invest in retirement plans offered by insurance companies and financial institutions.
Insure yourself against unexpected events in life – You need to take life and health insurance policies for yourself and your family to make sure that you are fully covered for any emergencies.
Create Multiple Sources of Income – You can apply your skills, gifts, and passion and monetize them using the various available opportunities. Explore different options to enhance your income.
5 Things That Could Make or Break Your Financial Goals (New Year Resolutions)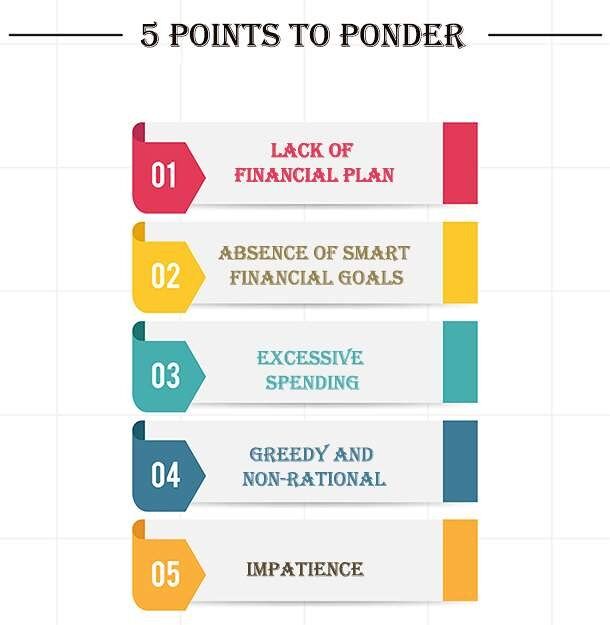 Procrastination and Lack of a Financial Plan – The earlier you plan, the easier the retirement. Wealth accumulation is bigger when you plan early. You should come up with a financial roadmap to achieve your objectives.
Not Setting SMART Financial Goals – SMART financial goals involve being specific about what is to be done with your money, being measurable by writing the exact dollar amount, being achievable by creating a stage-wise plan outlining how your goals will be reached, being realistic by analyzing the trade-offs and the opportunity costs to make sure your goal is attainable and being time-bound by stating exactly when the goal will be reached.
Difficulty in Controlling Excessive Spending – You should engage in practical budgeting exercise to save and invest so that your financial goals are achieved.
Being Greedy and Non-Rational – You should calculate risks to earn decent returns and avoid complicated, inappropriate, and expensive investments.
Being Impatient – To create wealth, you should be patient and invest long-term to grow wealth and reap the full benefits of the power of compounding.
The plans of the diligent lead surely to plenty, But those of everyone who is hasty, surely to poverty. Proverbs 21:5
We hope these simple financial tips will help you start the New Year on the right foot and increase your savings and wealth.
Our featured New Year articles will remind you of our Almighty Creator's magnificent love that comforted and protected you throughout the year, as well as providing great ideas and practical tips on a variety of topics to keep your spirits up for a fresh start.