The Thirsty Crow Story is about determination and persistence that shows that if we try hard enough, we may soon find an answer to our problem.
Do you know that crows are one of the most intelligent species on this planet? This is a beautiful story about an intelligent crow that used discretion to quench her thirst.
The hand of the diligent will rule, while the slothful will be put to forced labor. Proverbs 12:24
Story of the Thirsty Crow
It was a hot summer day when a thirsty crow flew all over the plains searching for water. For a long time, she flew over the farms, villages, fields, and houses but could not find any water. She lost all hope and started getting dizzy. Suddenly, to her relief and joy, she saw a jug of water in a beautiful garden in the back of a house.
Happy that she found some water finally, she flew down straight to the jug and perched herself on its rim. Seeing some water inside, she said to herself, "Gosh, finally I see some water." The crow put her beak inside the jug, but could not reach the water as the jug's neck opening was very narrow, and the water level was too low. She tried to push the jug down so that the water would flow out. However, the jug was too heavy and did not move much.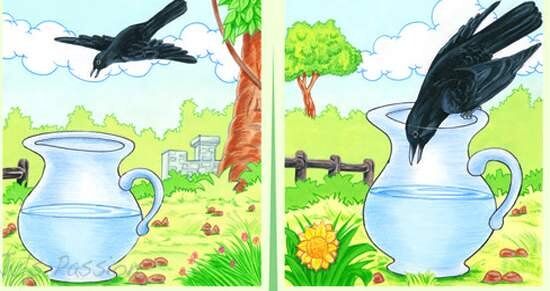 The crow became sad and disappointed and flew to sit on a branch of a tree. She was thirsty and needed a drink of water very urgently. She flew again looking for water, but could not find it anywhere. Her thoughts went back to the jug. She said, "How can I drink the water from the jug?"
Immediately, she got a brilliant idea. She remembered seeing many pebbles around the garden. She decided to take the pebbles and put them into the jug to get the water level up to drink. So she started to drop the pebbles one by one into the jug continuously. The water level kept rising, and soon the water level was high enough for the crow to drink. The plan worked and the crow was able to drink and flew home happily.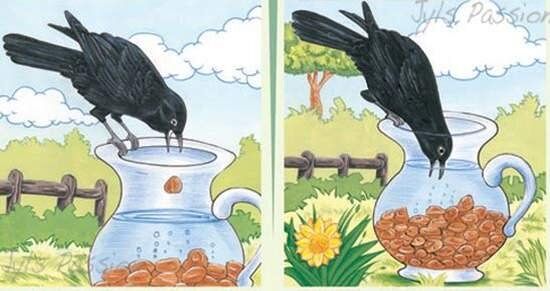 Moral of the Thirsty Crow Story
The morals of the thirsty crow story are that necessity is the mother of invention, where there is a will there is a way, always be persistent in achieving goals, and thoughtfulness is superior to brutal force or strength.
The thirsty crow story not only teaches us values but also the science of water displacement. The thirsty crow story is one of the few tales that teach the principles of physics to children.
Check our wide collection of Moral Stories that will inspire you and your children to do great things for the good of others. These stories for kids are motivating stories that will teach valuable lessons.